Calculator
Reverse engineer your Marketing Funnel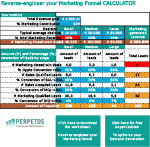 Ready to reverse engineer your funnel?
The purpose of this calculator is to determine the number of inquiries you need to generate in order to reach your revenue contribution target, based on an agreed upon % of revenue contribution by marketing.
The calculator is based on the SiriusDecisons Demand Waterfall™ framework and simplified by Perpetos, specifically to medium and corporate size companies. The calculation works with up to 3 different product lines or types of average deal size.
Who will benefit from using this calculator?
All demand generation functions involved in the marketing funnel

All data-driven marketers who want to communicate figures and facts

All management functions involved in target setting and revenue generation